---
Off Road
If the track at Eaton's IRCR is newly prepared within the last week, we highly recommend using what are commonly known as 'pin' or 'thread' tires from leading manufacturers. These tires feature small protrusions or threads that provide enhanced grip on fresh tracks, maximizing your control and performance.
However, as the track gets used over time, the traction it offers can gradually wear down the tire tread, transforming them into what we call "slicks." Slick tires have a smooth surface without any protrusions or threads, providing a different level of traction and handling characteristics.
To cater to this transition, many renowned RC tire manufacturers offer pre-made slick tires. These tires are specifically designed for tracks with reduced traction and provide optimal performance under such conditions. These premade slicks are readily available, allowing you to maintain your competitive edge as the track evolves.
It's important to note that different tire manufacturers offer various compounds or rubber blends, each tailored for specific track conditions. At Eaton's IRCR, we have tested and evaluated these compounds, and we can provide you with expert recommendations based on our experience and track conditions.
Whether you're looking for pin or thread tires for new tracks or slick tires for established tracks, our knowledgeable staff can guide you towards the best tire options for your RC racing needs. We are here to ensure you have the right equipment to optimize your performance and enjoy an exhilarating racing experience at our world-class facility.

Proline Racing Tires:
21.5/17.5/Mod Buggy Recommended:
Threads:
– Positron Rear/Electron Front Clay Compound
Slicks:
– Bald Eagle in S3 or Clay Compound

13.5/17.5 4wd Buggy Recommended:
Threads:
– Positron Rear/Electron Front Clay Compound
Slicks:
– Bald Eagle in S3 or Clay Compound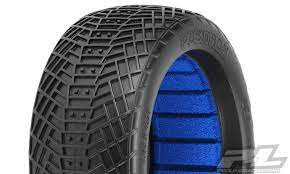 Jconcept Racing Tires
On Road

Oval